Are you looking for the best triathlon bike shoes? Here are my top triathlon bike shoe recommendations for triathlons and triathlon training.
If you have already gotten a bike fitting, use the same measurements for you new pair of triathlon cycling shoes. If you haven't gotten a bike fitting yet, get one! A good fitting in the US will cost you anywhere from $500-$1000 USD. The cost will come back to you numerous ways.
First, you will prevent more injuries. Second, you will eventually feel more comfortable in your positioning. Third, you will utilize your energy and get more out of every rotation than you would by guessing.
Finally, many bike fitters will help you adjust your shoes for the proper setting that will provide you the greatest comfort. This will give you an even more efficient rotation on your bike.
I have been fortunate enough to get a proper bike fitting by an amazing bike fitter. He took care of the fitting of my bike shoes for me. My triathlon training and triathlon shoes are a basic pair of Shimano road bike shoes.
I love them! They are easily adjustable. Velcro straps are simple enough for me. Keeping things as simple as possible is kind of my jam. So, having one pair of cycling shoes to think about is perfect for me.
If I were to eventually upgrade and get another pair of triathlon specific shoes for short course triathlons, I would get the S-Works Trivent. They are reasonably priced and I like the materials they use most of all the other tri-specific shoes out there.
S-works Trivent – The Best Short Course Triathlon Cycling Shoes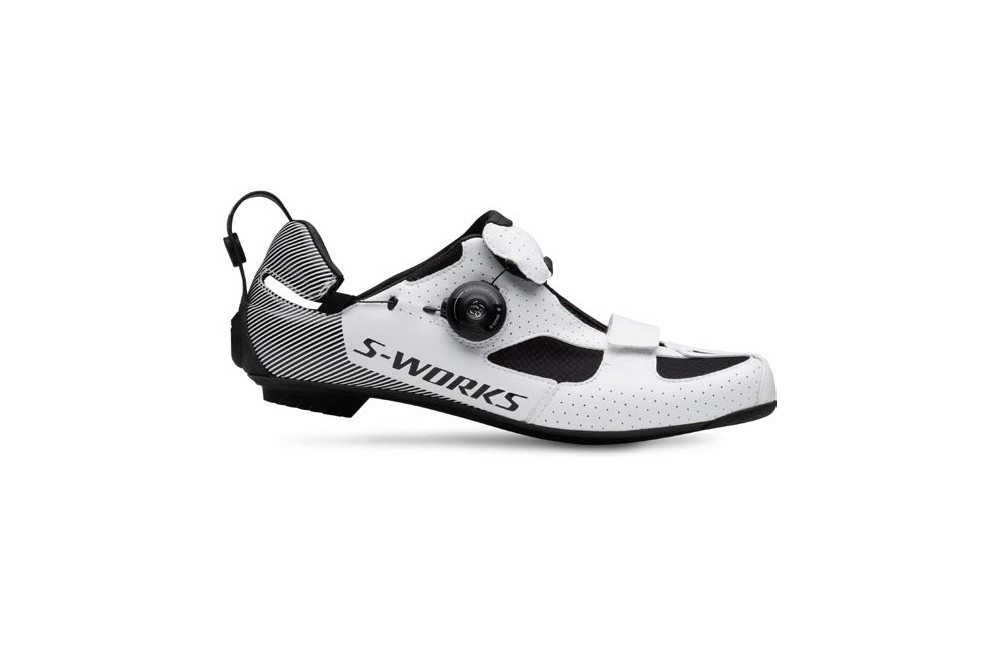 Provided by
Cycle Set Sports
These triathlon shoes are specifically designed for comfort, spring, and speed. They are comfortable because of the flexibility of the heel area and the that is allowed to flow through the shoes. The S-Works Trivent are springing for added transfer of power through the carbon plate in the sole to the pedal. These shoes are speedy to get in and out of during transition.
Comfort
The comfort of the S-works Trivent in simply wonderful when it comes to wearing these tri specific bike shoes. Whether you wear socks or go sock-less, you will have a significant advantage during your race over other triathlon race shoes. They are tailored for those who wish to not have socks, but they work just as well with socks.
Like most triathlon bike shoes, they have holes in the sole to allow for water to flow out the bottom of the shoe. Sweat and water after the swim collects in a shoe without holes in the sole. That is not good for those who will soon be running after their bike ride. The S-works Trivent allow help your feet to remain as dry as possible during a race.
Spring
The spring, or transfer of power, from your legs to your feet and to the pedal/crank is paramount during a triathlon. The more energy that transfers from your body to the tires, the more energy you will conserve during a race. This means more endurance over a greater distance. In turn, you will go faster and farther over the same period of time as you would with softer materials in the sole.
Speed
I'm not talking about your speed on the course. I'm talking about the speed by which you can get in and out of these tri shoes on the bike. During transition, one of the most important aspects of short course races is the ability to get in and out of your running shoes as quickly as possible. These tri bike shoes were specifically designed for transitions. The heel is easy to slip on after T1 and it's easy to take off before T2.
Doing a flying start will save you valuable seconds during transition. These help you remain stable on the bike while you slip on your shoes during the first section of the ride. When you dismount before T2, these shoes will allow you to have your feet on top of the shoe while you pedal and glide. You safe valuable time having these shoes on during a short course race.
Materials
With braided steel laces, a Boa L4 closure system, arch-mounted launch clips for flying starts, and a comfortable upper-mesh, these triathlon bike shoes are the loaded with top of the line materials. Most of the materials are replaceable, one of them has a lifetime guarantee, and all of them are designed to keep you riding comfortably for many years.
In fact, one of the only reasons you will want to replace these shoes is because you want a new design. Or maybe the dog gets upset with you one night and chews on them a bit. No matter what the reason for replacement, It will rarely be because they just wore out on ya.
Fizik Transiro Powerstrap R4 Triathlon Bike Shoes
Provided by
Fizik
Triathlon bike shoes are highly engineered. From carbon fiber embeds to antimicrobial materials, bike shoes in general are a highly complex series of well thought-out, well designed equipment for triathletes. But, the Fizik Transiro are years of beautiful technology put into a very simple to wear cycling shoe designed for triathletes.
First off, I think they are beautiful! Two-toned and ready for struttin down a runway, they will keep you lookin all-put-together on pedals.
Next, they have a simple single Velcro strap that works well. I love having less to think about during transition. When transitioning from the swim to the bike, you have one strap to tighten. And when you are transitioning from the bike to the run, a simple unstrap before the transition line gets you ready to hop off and have your feet ready for your running shoes.
The heel loop is great for putting your heel into the shoe after your have jumped on from a flying transition. The heel loop is unique to triathlon shoes. Most traditional cycling shoes don't have this strap. Pure cyclist rarely take the shoes on or off. But, triathletes need to do this during the race.
Bontrager Hilo Triathlon Bike Shoes
Provided by
Trek bikes
These triathlon bike shoes are designed for maximum airflow and a quick transition.
The Bontrager Hilo are well-designed and inexpensive.
The Design
These tri-bike shoes are two-toned and simplistic. They are well ventilated for sweat and rain water. They are designed for the best possible scenarios while racing and training. I really like how much the company has put in effort into how are feet need to breathe. I think the future of triathlon shoes is set right here.
For triathlon bike shoes, Trek does not get a lot of details when it comes to how they have designed their shoes. But the details that they do give, are good enough to understand how well they will work for your individual set up.
With a nylon composite sole, made up of 75% nylon in 15% fiber made from a plastic source, the sole is moderately stiff. There are lots of opinions about what is best for racing. But in general, the stiffer the sole, more power gets transferred from your legs to your pedal. Over the course of an entire race, this will equate to a greater distance covered during a shorter amount of time.
The shoe also has a healed loop for easy entry and exit of your feet. This saves time when transitioning from T1 and T2.
All of the other features on this particular set of bike shoes are fairly standard.
Triathlon Bike Shoes in Conclusion
If you are a serious and highly competitive Sprint or Olympic distance triathlete, the 3 shoes I have recommended above are very suitable and work just fine. However, if you are middle distance to extreme distance triathlete, I recommend getting a pair of bike shoes that is most comfortable for you over distances that range from 90 kilometers to 300 kilometers.
The reason why I'm saying this is because most successful middle and long distance triathletes or ultra triathletes use regular bike shoes for their races and training. It is a rare occasion for a long distance triathlete to have to worry about losing a race buy a couple seconds due to a couple of seconds being lost during transitions.
Get a great bike fit. Get your shoes fitted when you get your bike fit. And adjust for comfort.
If you are looking for the best running shoes for triathlon read the article in the link.