What are the best triathlon running shoes? Here are my top 5 picks.
1) On – Cloudflow – The Best Triathlon Running Shoes
Provided by
On Running
| | |
| --- | --- |
| Pros | Cons |
| 1) Lightweight – 7.76 Oz | 1) Price = $140 |
| 2) Perfect for Training & Racing | 2) Inner mesh heal can wear-down |
| 3) Heal to Toe Drop – 0.24 In | |
| 4) Neutral Foot Control and Great Cushioning | |
| 5) Awesome materials – EVA Foam, Speedboard | |
| 6) Breathable Upper Mesh, Antimicrobial Treated | |
| 7) Very well Engineered and Durable | |
What Other Runners and Triathletes Say About ON Clouds:
Best Race Shoes Ever!

This is my second pair of On Clouds and they are perfect … straight out of the box! I'm training hard for my first marathon in November and wanted a pair of race shoes that would not cause problems whilst 'breaking in'. Worn them for intervals, tempo running and foundation runs and they just give me so much confidence in my preparation. They will be my racing shoes on the day and I have complete confidence in them. Excellent build quality, great fit and top quality materials – buy, run, win!

Chris – On Running
I bought these shoes after talking to friends. One friend described these shoes as the best running shoes he had ever tried on. I went and tried them on at my local Trek bike shop. He was so right.
Why I Love Them – Why They are the Best Triathlon Running Shoes
They are hands down the best triathlon running shoes I have ever worn. I wear them nearly everyday. And I will be wearing them in my future triathlons as well.
As a triathlete, I love all the details that are engineered into the shoe. I have found that most of us get excited about the details of our equipment. I feel like there was very little to mention about triathlon running shoes. But now, with ON, there is so much to talk about.
For instance, the shoelaces are not round, they are rectangular. Also, there are tiny holes inside the upper sole that allow for moisture to go out of the inner shoe.
Like other running shoes or triathlon running shoes over the past couple of years, all of On's running shoes have spring technology. The claim is that after compression of the ovular shaped rings on the soles, the shoe will recoil to provide a little extra upward force to lift your feet of the ground more easily.
Go Try Them ON
To be honest, I don't notice the difference in that regard, but it's to know that I am getting a little help from my shoes when I lift my foot.
Like most running shoes these are highly adaptable for a triathlon transition. When you are putting them on at T2, I can't foresee any issues. They are easy to lace up. If you want to slip them on quickly like the ITU pros, then they might not be as easy as some of the other top brands. But, for the majority of us, I would assume that they will be adequate.
You can read more about these shoes on their website. The next shoe I recommend is by On as well. But, please look around their entire site to see if there is a shoe that you think you might like. Then, go and try them on.
2) ON – Cloudsurfer
Provided by
On Running
Touted as having the "speed of a racing flat and the comfort of a training shoe" on ON's website, these running shoes are perfect for triathletes.
What runners and triathletes have to Say About ON Cloudsurfers:
Activity: Running

Typical Distance: 20 – 40 km

Location: Manchester, Uk

Wow – It's Taken Me Years To Find This Shoe

I've been running for maybe maybe 14 years, originally conditioning for other sports but now do races and long distances. It's taken me so long to find a shoe that doesn't give me blisters, aggravate ankles and knees. I got 4 PBS in my first run in them! Then did 36km, no breaking in required. Incredible shoe! Can't wait to order some trail versions!

Olivia

https://www.on-running.com/en-il/products/cloudsurfer/mens/midnight-malibu
The Breakdown as a Triathlon Running Shoe
I only listed them as my second pic because I do not own them. But, the reviews are overwhelmingly positive about these shoes.
First, I noticed about these shoes are the low drop from heel to toe. There is only 6 mm drop. That is a very flat shoe compared to the super cushioned heal of the modern triathlon running shoe.
Second, it is not overly cushioned. These shoes are responsive just like the ON Clouds described above.
Finally, The only real difference that I can see is the tension in the sole of the shoe. This shoe is slightly more rigid. More rigidity allows for faster response when you need the speed. But, it can be a little bit more of strain on your foot over time.
I consider the rigidity in a triathlon running shoe to be a good thing. The less cushioned a shoe is, according to bio-mechanic experts, the stronger our muscles and tissues become in our lower legs. But, for those of us who prefer a little foot love, it's still a well cushioned and comfortable shoe according to runners who use them.
3) Adidas Takumi Sen 5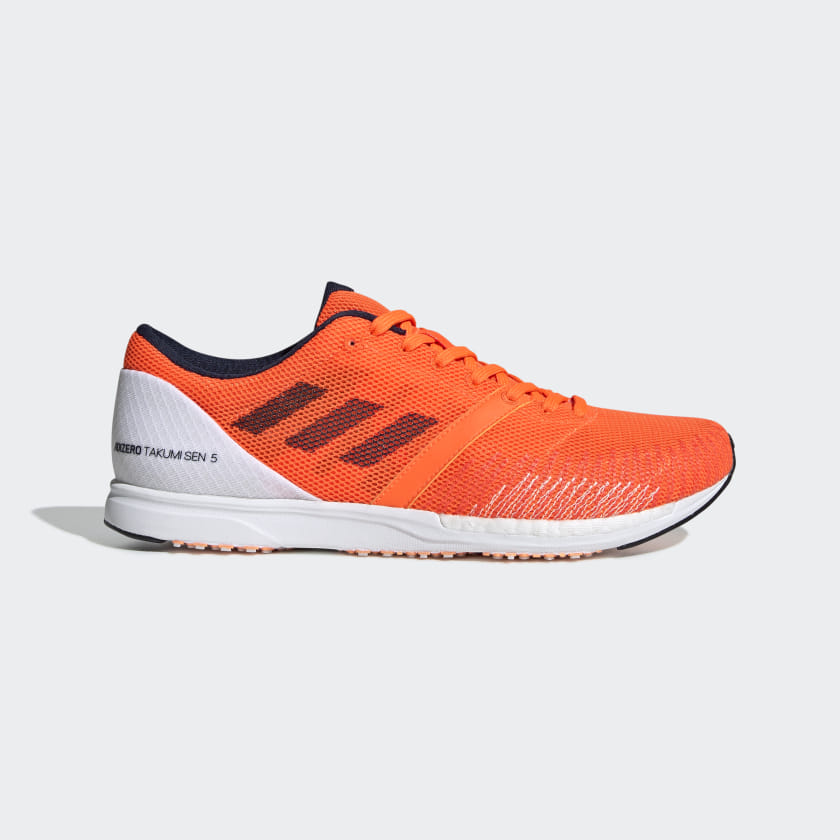 Provided by
Adidas
This triathlon running shoe comes from another friend recommendation. I have tried them on, but they just don't fit my feet. But, my friend and hundreds of other reviews rave about these shoes.
What Triathletes and Runners have to Say:
LOVELY MINIMAL SHOES
I bought these after sending back some cushioned shoes that felt too over-engineered, and love the lighter faster feel. I'm rotating them with cushioned shoes for training and will use these for 10K and half marathon races.I recommend this product

SkinnyWhippet


Adidas UK
They say that is a great training shoe on the track and on the road. My friend just used the early iteration, Adizero Sen 3, at the Boston Marathon.
They are very light weight, have a 9 mm heel to toe drop, and they are durable. The outer sole of shoe even has Continental Tire trade mark on them. You can really feel the ground while you are running in these shoes. They are cushioned sufficiently, but they are not overly cushioned in my opinion. As mentioned above, less cushioning is generally better for our bio-mechanical health.
This is simply a marvelously designed shoe, and I believe they are a great addition for triathlon run training shoes. Use them on the track or during fartlek runs to help increase your speed.
4) Nike – Zoom Streak – Fabulous Triathlon Running Shoes
Provided by
Running Shoes Guru
To be completely frank, all of the shoes that I have listed in this article will work just fine for a triathlon running shoe. These Nike Streaks could easily be number 1, the only difficulty with these and the Adidas Zen 5 is that they are not easy to find in the store. You need to purchase these before you try them.
I personally have never seen them in a shop. As they runners jaunt in the other direction, I notice their very bright shoes. Most these have very bright colors, making them very eye catching on a black road or running trail.
The specs on these shoes are ideal for a triathlon running shoe. Super lightweight, low heel to toe drop, and they are marvelously constructed. Other online reviewers say that this a great racing shoe.
5) Nike Free – Flyknit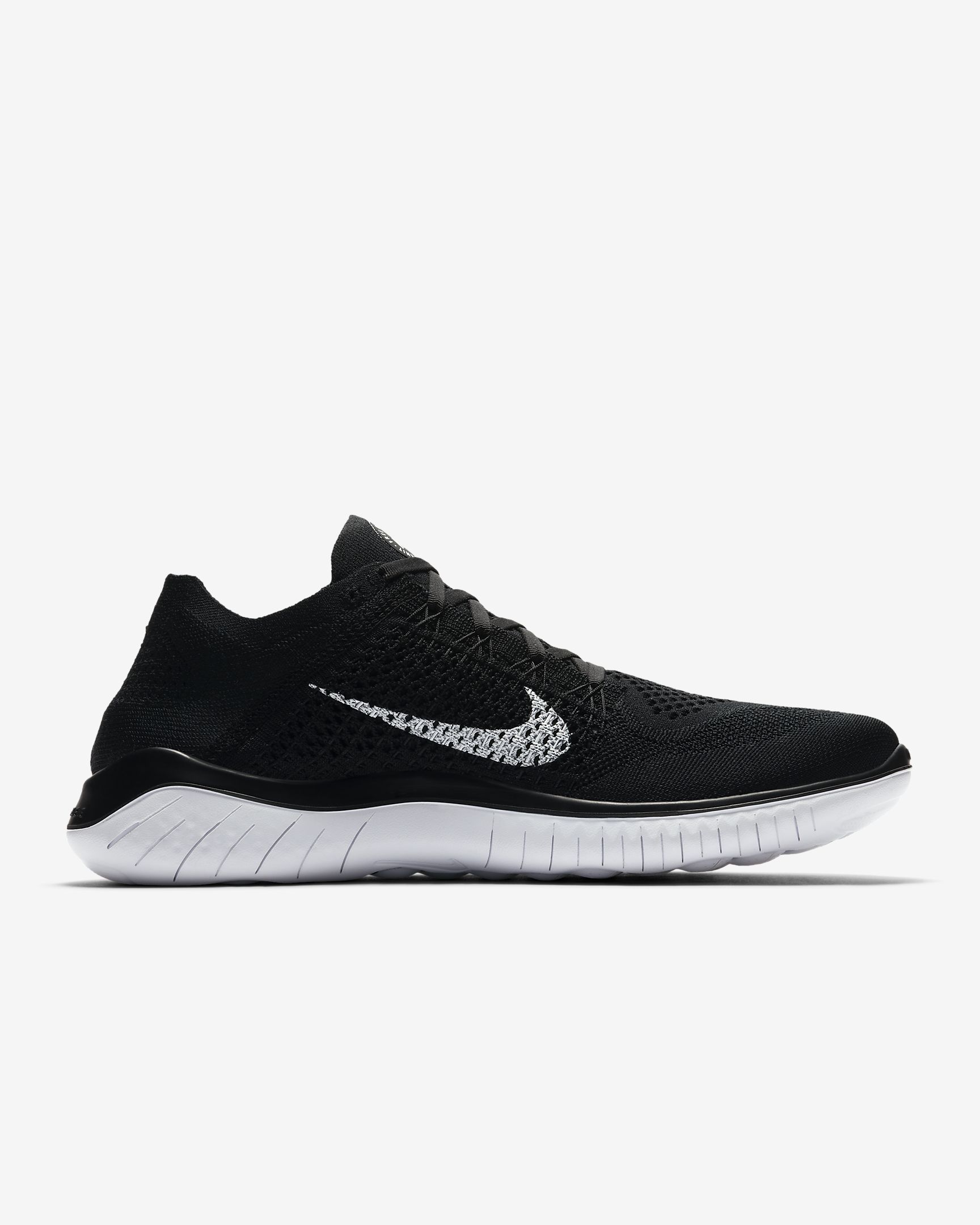 Provided by
Nike
I love these shoes. Three years ago, I purchased a pair of Nike Frees and I still run in them. The construction of the new version is a little different. They are very lightweight, the material holds up very well, and the heel to toe drop is not that great.
When get them wet, via a puddle or river, they dry easily. And the material just lasts. After putting upwards of 1000 miles on them, they are just now starting to show signs of wear.
I have raced, done interval track workouts, and distance runs in them. They meet all the criteria for triathlon running shoe. They are very easy to put on and take off.
What Other Triathletes and Runners have to Say About the Flyknits
Great lightweight and breathable running shoe! As an added bonus, it looks very stylish and modern. Repeat buyer here! Glad to own the 2019 version…

Amazon
This is a wonderful running shoe and works well in triathlons.
I really hope that this list of shoes has been helpful!
Triathlon Running Shoes – What to Look for When Getting Your Next Pair
This article is closely related to the forefoot striker article that I wrote. The best running shoes and ones that can be used in a triathlon ,according to bio-mechanical experts, are ones that are not heavily cushioned, are not new, and allow your feet to move naturally while running.
For the 90% of us who do not have major foot issues, this is all that you really need to think about when purchasing your next running shoes for triathlon training or racing.

What Experts Say About Cushioned Heel Shoes
We show that most forefoot and some midfoot strikes (shod or barefoot) do not generate the sudden, large impact transients that occur when you heel strike (shod or barefoot). Consequently, runners who forefoot or midfoot strike do not need shoes with elevated cushioned heels to cope with these sudden, high transient forces that occur when you land on the ground. Therefore, barefoot and minimally shod people can run easily on the hardest surfaces in the world without discomfort from landing.


http://barefootrunning.fas.harvard.edu/ http://barefootrunning.fas.harvard.edu/Nature2010_FootStrikePatternsandCollisionForces.pdf
The quote above is taken from Harvard researchers who study biomechanics.
I suffered from shin splints and knee problems throughout high school, college, and into my mid 20s. I have narrowed down these problems to the type of running shoes I was wearing, the way my foot landed while I was running, and proper training and conditioning.
There were so many times that I had wondered why I felt so much better when I did strike the ground on my heels. And after a few years of having knee pain, I decided to do research and see if there's something I was doing that was causing me to have so much pain.
So, I decided to go ahead and find out what top running experts had to say.
I Learned to Run the Way My Body is Designed to Run
Initially, I found Brian McKenzie. He is one of the founders of CrossFit Endurance. He is an ultra runner. Finding a highly reputable speaker and coach for running and fitness seemed like a great place to start. I watched a few of his videos.
The videos are a bit military 'go-get-em' style. Which isn't a style that I appreciate very much. But, the information that he shared seemed to make sense. So, I decided to give what he said a try.
After a few months, and I was not all that keen about changing how I ran. Firstly, it was a bit painful. Secondly, I wasn't used to using so many muscles in my lower legs. Finally, I had to stretch differently, and I could run as far as a usually could.
Running Started Feeling Good!
Then, at about the 6 month mark, my achilles tendon and the fascia surrounding my feet and ankles started feeling great! I could run further, I had no knee pain. And I just felt stronger.
Another side benefit, is that my feet got wider and shorter. My arches had become so strong that my feet reduced by a half size shoe!
A Natural Way to Run
We walk differently than we run. Firstly, when we walk, we strike with the heel of our foot. Secondly, when we run, we naturally strike on the mid-foot or forefoot. You can see this when you watch sprinters run a race.
Therefore, this is why all of my recommendations for triathlon running shoes have a low profile on the sole, evenly cushioned throughout the sole, and allow your feet to move as naturally as they can.
There are quite a few triathlon companies who are advertising highly cushioned heels on their shoes. And lots of long-distance triathletes are using them during races. I recently saw Tim O'Donnell run in 'Hoka Ones' during an Ironman. But there is no scientific evidence that these highly cushioned shoes provide performance enhancements or injury prevention.