Are you looking for swimming ear plugs that actually work while you are swimming?
Here is a list of swimming ear plugs that you can try to see if they fit your ear and desired comfort level.
1) Speedo Swimming Ear Plugs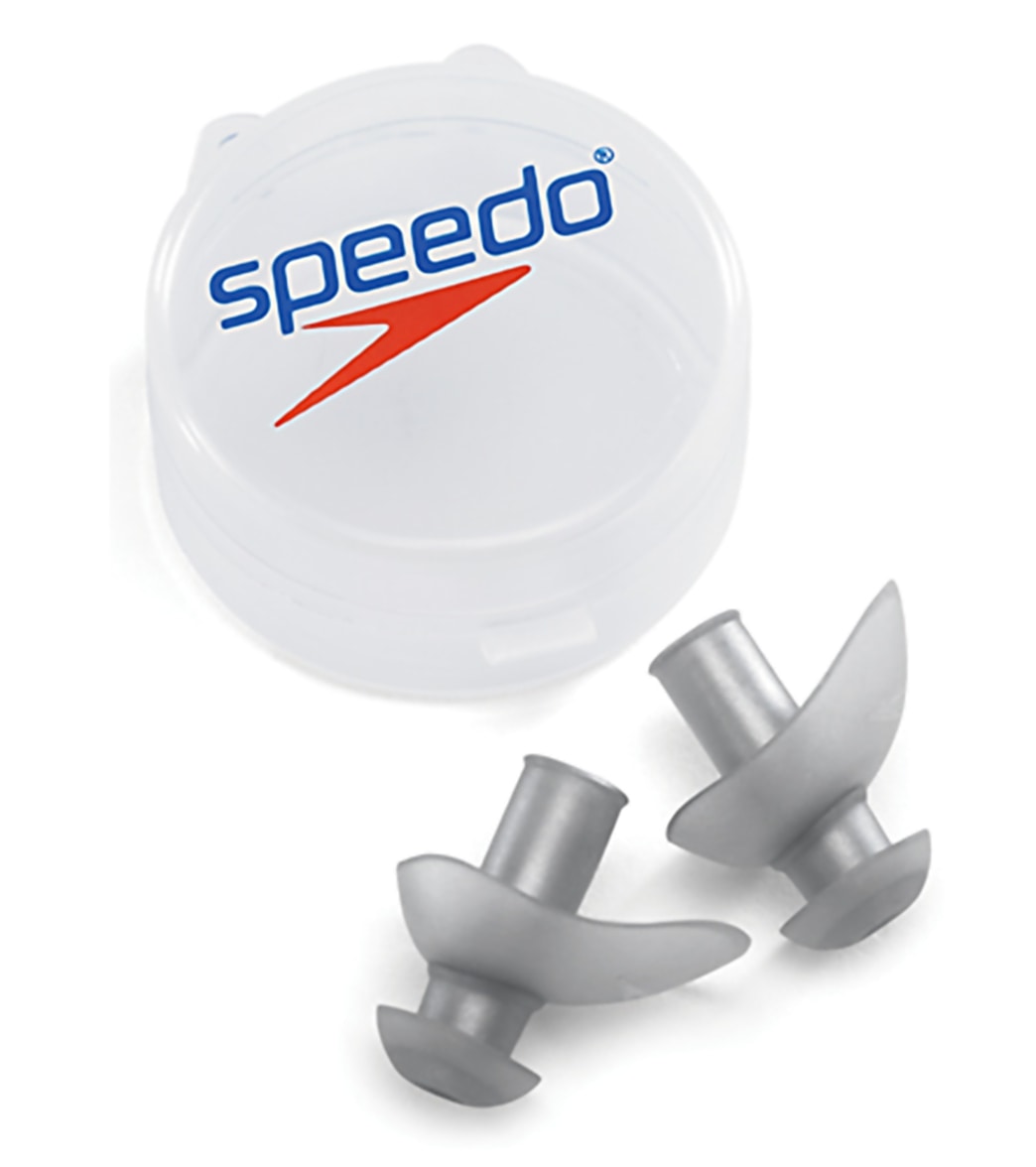 Provided by
Swim Outlet
This is a wonderful ear plug for swimming. The design is simple. It has an outer baffle to block the majority of the water and sound coming into the ear canal. And it has an inner baffle that seals closer to the ear canal.
I love ear plugs that are reusable and can easily be cleaned. These ear plugs allow for both.
Many reviewers and users of these ear plugs have said that they work well for a few months. But, as the material starts to degrade water can begin to seep into the ear canal. So, these swimming ear plugs are a great option 4 those who don't mind swapping out a new pair a few times a year.
This ear plug is definitely worth giving a try. At about $4 you really can't go wrong.
2) Mack's Silicone Putty
Provided by
Amazon
Silicone putty is my favorite kind of ear plug. For swimming and for general use I find they work very well.
They mold to my ear canal very easily and they stay in place for a long time.
I would recommend securing the putty in the ear with your swim cap. Just in case there is a weird event that might dislodge the putty, the swim cap will prevent it from falling out completely.
I have not personally used Mack's Silicone Putty, but I've used a very similar generic product. I would give you the name of it but I don't even think that silicone putty had a brand name.
Some swimmers use this putty over and over and over again. But, I have a slight issue with that.
I don't know the science behind it, but I feel like silicone putty is very difficult to clean. Pool water and definitely lake or ocean water are not the cleanest sources of water. Anything that goes into my ear for a long time needs to be clean, even if it's only in my mind.
So, as far as a long-term solution, I don't find silicone putty to be a great option. I do however, think that for a one-time use they are ideal.
3) Hydro Seals Swimming Ear Plugs
Provided by
jblspearguns.com
The hydro seal swimming ear plugs are very well suited for long-term use.
They're made of a soft silicone. They are a one-of-a-kind swimming ear plug. The construction allows sound to enter the ear well. Yet, water is not allowed to pass to the inner ear. Therefore, normal sound is allowed to pass through.
There are three different sizes of the ear plugs. So, unless you have extremely small or extremely large ear canals, these should work well for you.
I love the fact that they are hypoallergenic. They're very easy to clean with soap and water. As with any product, there will be times where the silicone begins to break down. Within a few months, you probably need to replace them.
The Speedo earplugs and the silicone putty ear plugs are what I feel the majority of swimmers would like. But, I feel like these are my favorite kind of ear plug. They truly are designed to be clean and have been very well engineered.
These are plugs are also designed for diving and surfing. Sometimes divers have trouble clearing pressure from their ears. Hydro seals allow divers to clear their ears because they are not completely airtight.
Even with just a little thought you can see that these are made with better craftsmanship than other swimming ear plugs.
4) Mack's AquaBlock
Provided by
Amazon
This second product from Mack's is my second overall recommendation. I love the fit of these types of ear plugs. They are very soft when they go into your ear. And they block out a lot of sound.
They're very easy to clean. Soap and water do the job.
These are also one of the most highly reviewed ear plugs that I could find. Very few people complained about them. And, they were very highly regarded by so many who suffered from ear infections and discomfort after swimming.
I have been swimming for a number of years at the local YMCA and over the past 2 years have had tremendous difficulty with my ears. For a long time I used foam ear plugs but obviously they were not the solution. I finally did some research on Amazon and ordered the Macks soft ones, along with Doc's non vented pro, Doc's pro plugs and Fitian Waterproof Silicone Sports Swim Earplugs. The Mack's Soft Flanged Aqua Block Earplugs, (purple) are AMAZING! They do not hurt, are easy to put in and remove and most of all, they keep the water completely out of my ears. I swim a mile at least 3 days a week and can do the entire mile with flip turns and no stopping! For me, these are the best thing ever!

John C

Amazon
I highly recommend these ear plugs. They are very soft, safe, clean and inexpensive. They will last quite a while. And they're very highly reviewed.
5) Biofuse Swimming Ear Plugs
Provided by
Speedo
As I scoured the internet defined ear plugs that would work for swimmers, I found this on the Speedo website.
These do not have my highest recommendation, but lots of swimmers like them.
The only reason I don't highly recommend them is because of the length of the ear plug. It sticks out too far from the ear. That makes it much more uncomfortable if you bump your ear.
There is a benefit to the length. It allows for easy removal.
But, if you swim in triathlons, the potential of having them bumped further into your ear is higher. Ouch!
Sometimes, my shoulder will bump my ear when I swim. And I've had ear plugs that stick out a little bit further then my ear and it sucks when it's bumped.
Granted these are softer material than I was using for my earplugs. But, when you have anything snugly up against the ear canal, the slightest bump can be felt.
That being said, there are many swimmers who love these earplugs. And they have been very well reviewed over the past 5 years.
These have a very low-cost, many report them as being comfortable, and they're quite well designed. So, I recommend you give them a try if the others I mentioned about don't work.
In Conclusion
After trying a few swimming ear plugs, I became very frustrated at how much water was coming into my ears during my lap swims. I assumed that there would be lots of great options for swimming ear plugs earplugs that are optimized to fit any air and comfort level. My assumption was correct. But they weren't as easy to find in a swim shop as I expected.
This is a major reason that I have decided to write this article. This article gives you an easy list to reference so that you can comfortably swim without getting water in your ears. 
Please try a few before you settle on just one of these earplugs. 
As an amateur triathlete and I'm not the world's fastest swimmer by any stretch of the imagination. But, I swim two to three times a week and I love it. So, from one amateur to another, I hope that this has at least given you a good place to start.
If you are looking for some great swimming goggles, I have an article here that goes into detail about the best options for triathletes, open water swimmers, and pool swimmers.