Have you ever bought a pair of running shorts that had a seam that kept rubbing against your inner thigh and caused chafing?  Has the internal lining of the running shorts caused a chafing mark in a place you did not think was possible to have chafing? After sweating profusely during the first part of a run, have your shorts become so clingy that you have to readjust them every few minutes?
Here are the 3 pairs of running shorts that I highly recommend to prevent chafing and wick sweat away. 
If you buy something using links in my stories, I may earn a commission. This helps support this website. Learn More.
Nike Stride – Dry Fit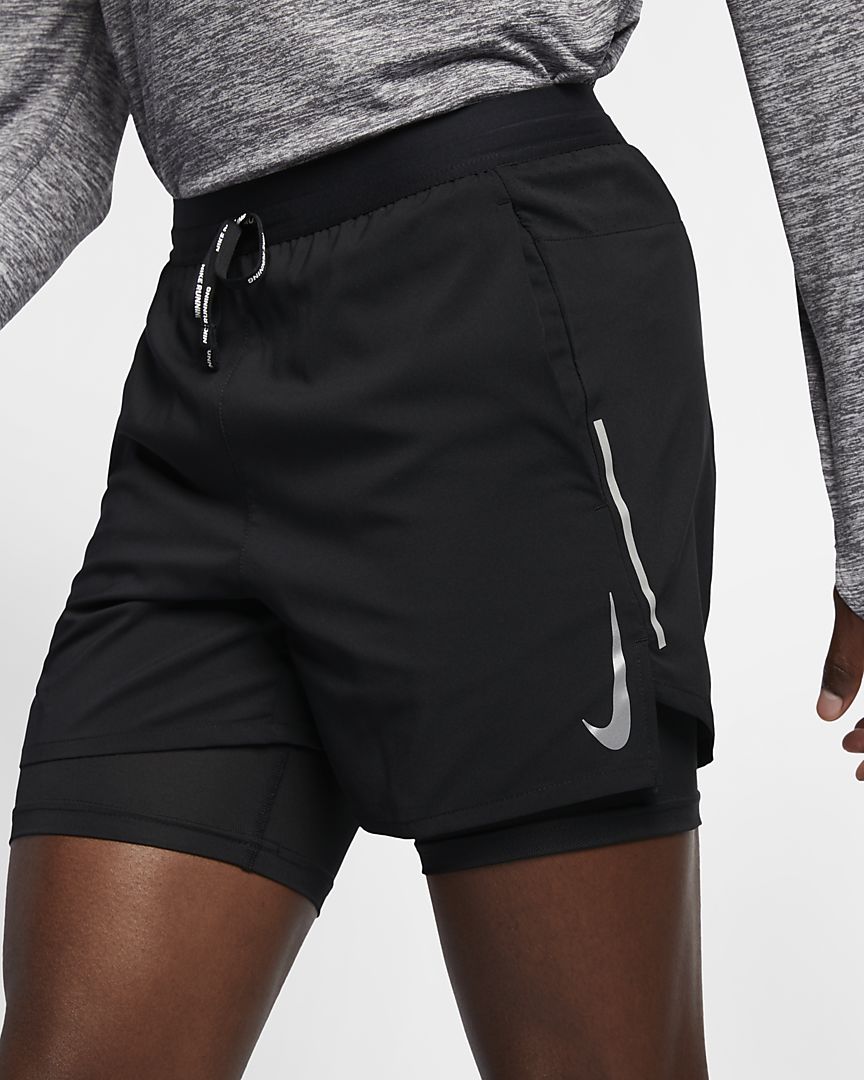 Provided by
Amazon
The Likes
They have an inner layer that fits snugly from my hips to just above my knee
The inner layer holds everything together and makes sure that there's very little movement of a particular appendage.
Sweat gets wicked away from my skin. 
The pockets are well-positioned and easy to access
I really like the simple design 
Depending on the color that you get, sweat isn't as easily noticed.
(Mine are a darker green color, so it works quite well)
The Don't Likes
They do not keep me cool 
The inner layer material is not as soft as the design from 15 years ago.
Nike Fast/Half Length Running Tights (Kalenji – Half Length Running Tights)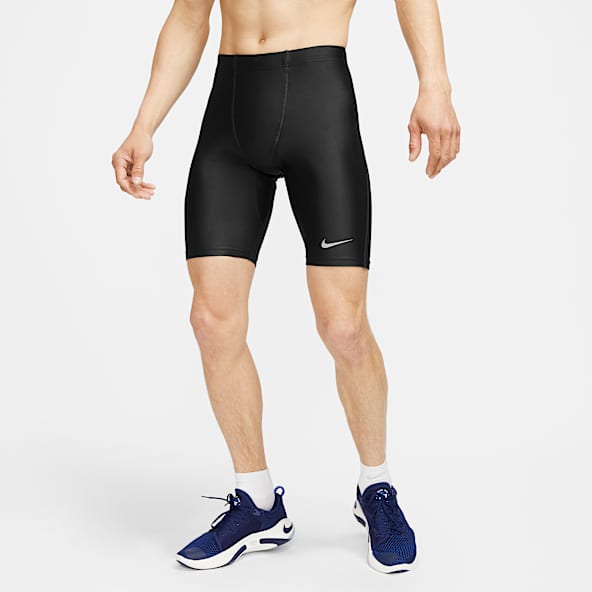 Provided by
Amazon
The Likes
Keeps everything in place
Wicks sweat away
Prevents chafing of inner thigh
Hides sweat well
The Don't Likes
Limited pocket space
There is little mystery for what you got goin on down there
They don't keep me cool
Under Armour – Speedrocket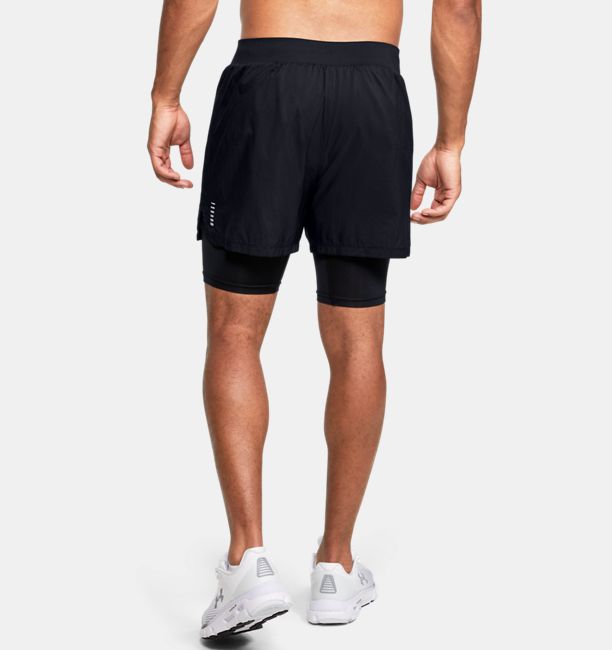 Provided by
Amazon
The Likes
Keeps all pieces snuggling together
Great at wicking sweat
No chafing
Hides sweat very very well
Great front and rear pockets
The Don't Likes
They keep everything a little warm in hot weather
A Brief History of Chafing and Running Shorts
I have had a love/hate relationship with running shorts since high school.  They either caused chafing or they were so clinging that I would have to adjust my shorts every few minutes.  At first, I just accepted them as things that you had to deal with as a runner.  
During high school, we had uniform shorts that we had to wear for each race. Of course, we didn't wear racing shorts regularly. So, when we had races twice a week, we would have to take a chance that there would be some chafing after the race.  There was a bottle of this Vaseline goop that we would put on our inner thighs before and between races to keep the shorts from causing too much skin damage.
I used to have a very tough-guy cultural mindset. The idea that 'if it doesn't hurt then you're not improving' was overwhelmingly a big part of my upbringing. And as long as something wasn't broken, then just deal with the pain.
Running Shorts Should be ALL About Comfort
Running shorts never really caused me a lot of pain per se. Chafing was just an irritation. After a while, the skin would form a slight callus. Then, I wouldn't have as much irritation after a few weeks or a month of running in those running shorts.
But, now that I am older and wiser, I have realized that you can be comfortable and run. My running shoes, shirts, socks, and hats are all tailored for my personal preferences. And I believe that is what every runner should do. Every runner should have clothing, including running shorts, that is best suited for their needs, comforts, and style. 
In my opinion, even with great advances in technology and lots of testing that goes on to manufacture high quality running shorts, there's still a long way to go to get it perfect. Running shorts are the most difficult pieces of clothing to find that meet all the criteria of comfort, breathability, non-chafing, non-bunching, and stylistically acceptable.  
Because of this reality, finding the perfect pair or running shorts has been a bit of an obsession over the past few years.  I started doing triathlons about 4 years ago.  Since then, I have started running more regularly and I have found some pretty good options for running shorts.  
The Hope for a Better Design
In the near future, I would love to design a pair of running shorts that were made of material that allows my skin to breathe, wicks sweat quickly, cools my skin, prevents chafing, and doesn't cling.  
In the meantime, I have found three pairs of shorts that prevent chafing, wick sweat well, and don't cling.  Though they don't keep my skin cool and they aren't the best with breathe-ability, they get the job done in those other 3 areas.
The Verdict on Nike Dri-FIT Flex Stride Running Shorts
Nike Dri-FIT Flex Stride are a great pair of lined running shorts. I have a pair of Nike Dri-FIT running shorts that I purchased 15 years ago. I still use them now. But, I wanted an upgrade because they are 15 years old. Funny thing was, Nike stopped making the design and materials that were on the older model I had. The type of material that they use for the inner lining is totally different now. It is much thicker and warmer. They are also not as soft. 
My new pair of Dri-FIT shorts are called the Nike Dri-FIT Stride.  I do like them.  I don't like them as much as my purchase from 15 years ago, but they get the job done.  They don't bunch up in my crotch area like many looser running shorts.  Therefore, I don't have to pull them out of there every few minutes.  They also protect me from getting chafing on my thighs.  They do allow my skin to breathe.  But, they are not designed for hot weather.   After about 85 degrees Fahrenheit in moderately humid weather, I feel way too hot in these.  I do realize that most outdoor activities are not going to require you to be in heat that is over that temperature, but it does need to be mentioned.  
In conclusion, the Nike Dri-FIT Stride running shorts are excellent at preventing chafing, wicking sweat, and not bunching.  But, they are not ideal for those of us who heat up quickly or for those who will be in hot weather for an extended period of time.
How the Nike Fast/Kalengi Half Length Tights Measure Up
The second pair of running shorts that I prefer over the Strides, are just a regular pair of short running tights.  I have a nice pair from a Decathlon.  But, I don't recommend purchasing them.  They can be difficult to find online and in the store.  Decathlon changes their designs quickly.  So, I don't want you going to look for a pair that has been discontinued after I have written this article.  The pair that I do recommend are the Nike Fast or the Nikes Half Length Running Tights.  The ½ Length Running Tights will generally always be accessible online or in a Nike store.  
Here is what I love about the design of these shorts.  They are simple.  They keep everything together down below, wick sweat away, and prevent chafing.  The only downside is that they are not cooling, in my opinion, and they let everyone who wants to take a gander down below know what you got going on.  Now, for some of you guys out there, that is an added bonus.  But, for a lot of us, we don't want everybody being about to make mental measurements while we are trying to focus on our workout.  
I have just accepted the fact people are going to look, and I wear them regardless.  I think they are my favorite shorts to date.  If you don't want sweat or as much to be seen down there, try purchasing a darker color.
In conclusion, the Nike Fast/Nike Half Length Running Tights are my preferred running shorts to prevent chafing and bunching.  They won't keep you super cool, but they will wick sweat well.  
The Under Armour Speedrocket Difference
I do not own a pair of these shorts. They get excellent marks on quality and design. From great pocket locations to a well tailored stitching, these shorts are a total package for preventing chafing and being comfortable on the run. My only concern with them is the ability for them to heat up. They are still made of hot synthetic fibers and don't allow your skin to breathe well. This makes them a little tougher to handle on hot days.
But, overall, I would call these a win due to chafing prevention and great pocket locations.
As, I mention in nearly all of my product reviews, you've gotta try them on yourself. Like all clothes and equipment, the fit and comfort have to fit you. I would recommend trying them on in the store or ordering a size that you think you might fit, and if they don't work for you, send them back.
In Conclusion
I hope that this tiny memoir on my running short preferences has helped provide a little understanding of what might best suit you when you purchase your next pair of running shorts that won't chafe you up.  Have an awesome day, and keep training!
If you are looking for a running hat to keep you cool in the heat, give this article a read.