1) Icebreaker – Simply the Best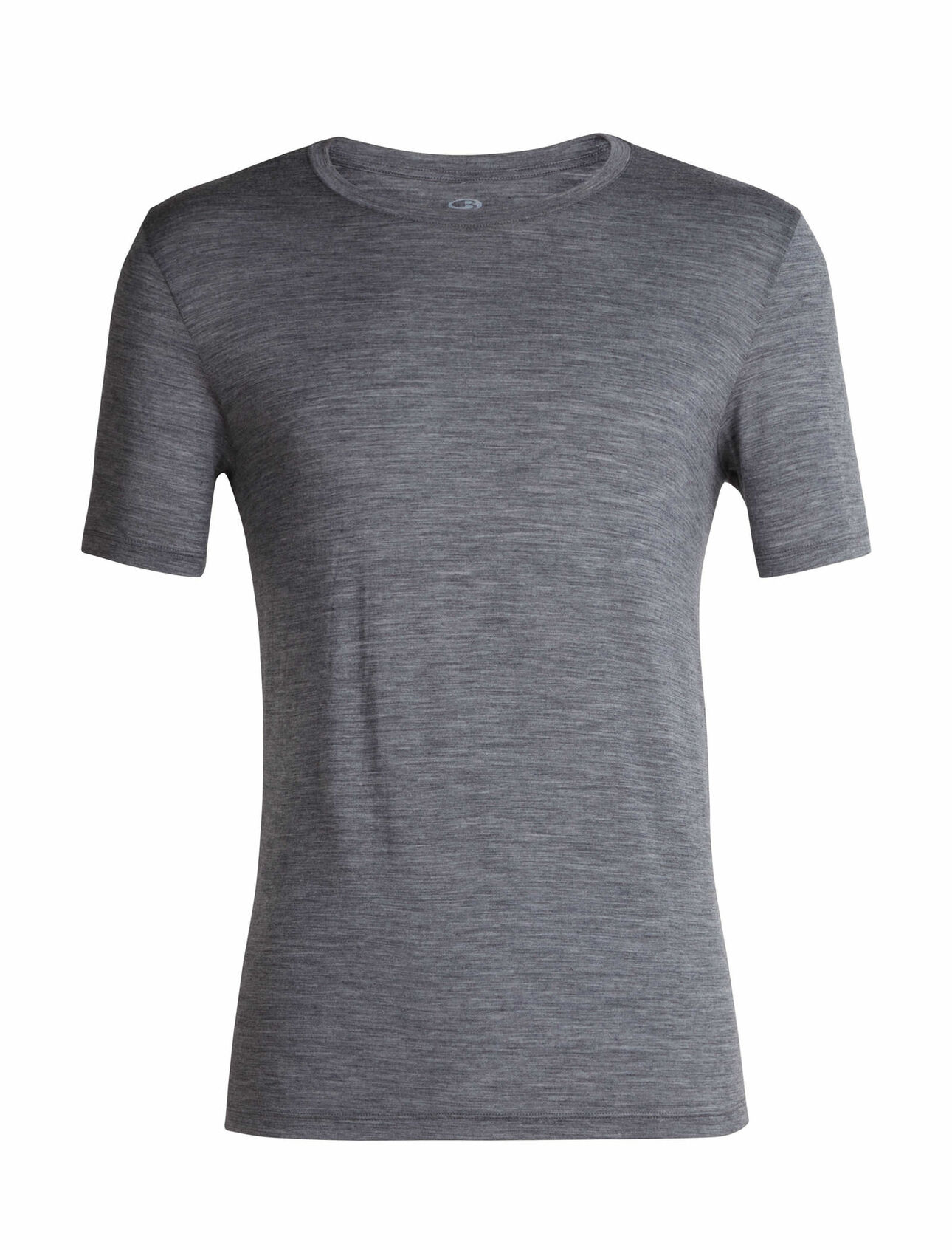 Provided by
Ice Breaker
This is my top recommendation for running shirts. In my opinion it is the best. Here is why:
Blended 87% Merino Wool and Nylon 13%
Keeps you cool on hot days
Keeps you warm on cool days
Wicks sweat quickly
Can be worn for up to 7 days without smelling (if you don't run in it :))
Easy to clean
$75 USD (This a little pricey, but it is designed to last for a very long time)
Designed to last for many years

I usually buy mainstream athletic brand names but found a sweater for a good price from icebreaker and it was great so I decided to try a t-shirt.
First off this thing is great always seems to be the right temperature never hot never cold.
I wear it as an undershirt at work now because of how great it was and I come home from wearing my uniform all day in the hot sun and no B.O it is unbelievable
2) Black Diamond Rhythm Tee – An Equal Second
Provided by
Black Diamond
The Rhythm Tee is an excellent endurance running shirt. It is second best to the Icebreaker shirt only because some have found the material starts to bead up a little. But, I think this has to do with many factors.
One being what type of detergent is used to wash the shirt. Another being how long you keep it in the drier. After regular use this will happen with most wool shirts. Even if this happens to your shirt, the performance will still be viable.
Here is why:
57% Nylon and 43% Merino Wool
Up to 35% more stretch than other merino wool shirts
100% money back guarantee
Quick Drying
Moisture-wicking
It is doesn't keep you as cool as other wool blends. But, because of the drying feature and wicking feature, you will feel cooler due to less moisture on your skin.
It is very breathable, though not as breathable as mostly wool or mostly bamboo shirts.
Lightweight – Breathable
I have worn this a few times. Mostly high output peak bagging. I love the weight of it and the breathability. It dries quickly after sweating a lot. It show no sign of wear so far. Great shirt that will be my go to for important adventures. Just a little too expensive for daily use:)
3) Patagonia Capilene – Cool Daily Shirt
Provided by
Patagonia
This is the only fully synthetic running shirt that I am recommending on this list. This is mostly because I love Patagonia's ethics. This shirt is made from over 50% recycled polyester and jersey materials.
It is also one of the few major clothing companies that has a shirt that is Fair Trade Certified. They have also thrown a bunch of tech in to this shirt to make is very soft and quick-wicking. Here is what's great:
90+% Polyester
Awesome at wicking sweat
Soft on sensitive parts
Minimal stitching
50+ SPF proof
Excellent durability for years of continued use
Taylor S.
Verified Buyer
5 star rating

Best shirt I have purchase from yall

This blue "Cool Daily" shirt has to get the best shirt I've ever bought. Great quality, keeps me cool no matter what. I love in AZ where temps can get 120+ and this shirt keeps me protected even when working outside. Thanks!
4) Tasc Performance – Carrollton
Provided by
Tasc Performance
This is one of the best running shirts in the world. Period! Those that have one, rave about it. They last forever. Not literally, but for all essential uses of a running shirt, this one will fulfill all of your needs. This will be the next running shirt that I buy. I put it in the middle of the pack because it is not as popular as the ones above, but it should be. Here is why:
95% bamboo, a highly sustainable natural material
Moisture-wicking
Highly breathable
UPF 50+ UV protection
Light weight
No top shoulder seem
$40 is a low cost for a shirt that lasts as long as this one.
I am searching the earth for the best performance tee…. tried LuluLemon, Rhone, Tasc, and of course the obvious ones like Nike, Under Armour, Adidas, etc. I love the fabric of the shirt. It feels great. The one minor tweak is the neck. It is a bit too snug. I see what you were going for. So many shirts have necks that stretch, hang too low, etc. You wanted to ensure this didn't happen with this shirt and you succeeded. However it is a bit too tight. The analogy would be if you a wearing a dress shirt, it would be like buttoning the top button without wearing a tie. Just back off the snugness of the neck by say 10% and you are golden. The perfect tee.
5) PEP – The Stayton
Provided by
PEP
This running shirt was designed with ultra-marathoners in mind. It has some features that very few shirts have. There are rear vents in back of the shirt to keep the air flowing. This running shirt is built with a long torso so that the shirt does not ride up and cause uncomfortable movements whilst running.
97% Australian Merino Wool
Low drop torso
Back vents that increase air flow
Anti-odor control
Sweat-wicking
Quick drying
Very long lasting
 I continue to be impressed by this company and have recommended them to all of my family and friends who appreciate the luxury of merino wool. I own and wear merino wool made by Smartwool, Minus 33, Ice breaker, and First Lite. The Pep brand is my favorite! The craftsmanship, comfort, and cut are all outstanding! The shipping is extremely fast, and it's clear they care about their customers.
6) Smart Wool – Merino Sport 150
Provided by
Smart Wool
Smart Wool shirts are some of the most popular outdoor performance clothing available. Their running shirts make a wonderful addition to your running wardrobe. They are very high quality shirts and are designed for multiple sports.
As a running shirt, they provide wonderful sweat-wicking ability. They also keep odor out and have a comfortable fit for the average running body type.
Some good reasons to buy:
A reliable trusted company
Vents at the top of the back
55% merino wool, 45% polyester
Reduces chafing due to the stitching on the seems
Ultra light
Reduces odor
Wicks sweat away quickly
Really like the feel and look of the shirt. Always wanted a wool running shirt and very happy with how it's turned out. Ran in baking hot sun and didn't feel like I was running in a sleeping bag. Post run wicking worked great and ended up wearing the shirt at the post race party with no regrets!
7) Unbound Merino – Crew Neck
Provided by
Unbound Merino
This one of the sexiest shirts on the list. This one can be worn as a running shirt or a as a casual shirt. The look and feel of this shirt are exquisite. Unbound is a wonderful up and coming company. They really are all about helping all of us have better clothes that will benefit us and the environment. The only big problem with this shirt is that it will wear after continued usage. Holes may appear, but if you are not worried too much about looking amazing while you run, this shirt will work for many years.
They have a simple solution to all the things that keep us uncomfortable and wet on a run. Here is why you should buy this shirt:
100% Merino Wool
Anti-Wrinkle
Anti-Odor
Sweat-Wicking
Antibacterial
Stitched to help you move comfortably.
What to Look for When Buying a Running Shirt
After twenty years of endurance running, I do have a few running shirts that I would recommend. There are loads of running shirts to pick from and ultimately you will need to decide what works best for yourself.
If you want a good list of synthetic running shirts to get you can go to Runner's Click. This article gives a great review and run down of the different types of running shirts that are on the market today. Most of us use the type of shirts listed in that article. And to be honest they will work just fine.
But, if you would like something that keeps you cool, doesn't hold odor, dries quickly, better for your skin and the environment, try the types of shirts that I have described above.
My Favorite Running Shirts
I prefer very thin cotton, thin wool, and thin bamboo shirts. There are a few running shirts that are marketed as running shirts made with these three materials. If you are out shopping for running shirts, feel for ones that are extremely thin and soft. Try on the shirt. Make sure the shirt fits snug upon your chest/nipples. A shirt that is too loose might cause the problem that helped market synthetics as the premier athletic clothing material, nipple chaffing.
Running Shirts that Prevent Nipple Chaffing
Nipple chaffing sucks. I have only had that kind of issue after playing on inner tubes whilst swimming during summer break as a kid. But, I remember it very well. It took a week to wear a shirt comfortably again.
Which Running Shirt Clothing Material Keeps Your Body Cooler?
I believe, not due to scientific proof but because of experience, that bamboo, wool or blends that include wool or bamboo, allows your skin to breath better than most synthetic materials.
Cotton or wool underwear is recommended by doctors more than synthetics. Cotton or wool bed sheets are more breathable than synthetic sheets. Try wearing a thin synthetic running shirt to bed and then try wearing a thin cotton shirt to bed. Which material keeps your warmer? In my experience, synthetics keep me warmer.
Best Running Shirts for Wicking Sweet
Now, it is proven that synthetics like high performance polyester running shirts that are in Nike Dry-fit shirts, wick sweat away from the body faster than a fully soaked cotton shirt. But, for all practical purposes, a super thin wool, bamboo, or cotton shirts will dry faster in the open air than those high performance synthetic.
If you like high polyester shirts, I highly recommend super thin loose fitting ones. This being my second choice, I recommend polyester shirts to be loose fitting so that the sweat can drip down your torso more that it clings to the shirt.
I do use polyester shirts quite often. They all came from races that I have attended. The polyester running shirts that fit tightly are way to hot. So, keep it loose and free flowing.
What are the Best Running Shirts?
The best running shirt is the shirt that you like the most. It works for you at the time and place that you are racing or training, then use and don't change it. If you are having some difficulties with overheating or keeping dry, give the ones I have mentioned above a try. I really think the Icebreaker shirt that I mention is worth a go.
If you are a triathlete or a swimmer you can check out this article about the best swimming goggles for triathletes. I hope you have an awesome day! Thank you for visiting Triathlete's Tribe!