1) On – Lightweight Running Hats
Provided by
On
If you buy something using links in my stories, I may earn a commission. This helps support this website. Learn More.
Running hats have a new competitor out there. Nearly everything that On makes is just right. I fell in love with their running shoes. I bought a pair and I think it will be a long time until I find better pair for train and use for racing.
The beauty of On is in their design. They design and test everything with the intended user in mind. This hat was designed for us, runners. Here's why:
Very lightweight
Sweat-wicking
Well designed holes for ventilation on the sides of the cap
Well protected on top from the sun or rain
Short bill for just enough sun protection
Made with tear-proof woven fabrics
It comes in 3 (black, gray, and dark green)
$40 USD
When it's hot, the cap serves to protect both my head, eyes and face from the sun. Gone are the days where I have to keep pushing my sunglasses back up my nose! The hat has ventilation holes all over to keep my body temperature regulated in the heat, it's SO lightweight, I hardly realise it's even there and it wicks away sweat and dries quickly.. really what more could you need!

Laura Dryden
2) Patagonia – Duckbill Running Hat
Provided by
Patagonia
This is probably my second favorite hat on the list. Patagonia is an amazing company. They use some of the best practices in clothing industry to keep you happy and our planet a little better.
Beyond the PR side of things, this hat is wonderful. It's super lightweight and flexible. It breathes like a breeze from a cool mountain stream. There a so many ventilation holes. Now, this is not the best hat for running in the rain or for super intense sunny days. But, it will keep you cool, dry, and 80% protected from the suns UV rays. Here are some good reasons to buy it:
Made of recycled Nylon
Repels water quickly
Super airy ventilation
The bill foam folds and can smushed into your pocket and then rebound to it's original shape.
COOLMAX fabric headband on the interior for great sweat-wicking
The under bill is darkened to reduce glare from water or the road.
The duckbill hat with the mostly mesh top was exactly what I was looking for. I love the fact it folds so nicely it'll fit in my pocket. At first I was worried the short bill was to short but after wearing it extensively on a trip to the Badlands, my fears were unfounded. The length is just right

John H.
3) Ciele – Running Hats
Provided by
Ciele
This is my favorite hat of all available running hats on the market. For one thing it just looks goooood. But, more importantly, it is super functional. The GOCap M has COOL tech that wicks sweat away from your forehead. It let's cool air in and hot air out.
Thought this is not the best hat for direct sunlight, it does give a large area of protection. It's great at allowing air to dry the hat quickly. It folds nicely, and it is incredibly light.
Super light weight (55 grams)
Great air flow
Great wicking technology
Looks amazing
It just does everything to keep you cool and dry
Best Hat I've Ever Owned
I've tried all of Ciele's hats and this is my favorite. I don't hesitate in saying it's the best hat I've owned. It's light, actually breathes, and it looks/works equally well on the street or trail. It is definitely worth the money.Size-wise, I typically wear a 7 1/2 – 7 5/8 and this fits nicely without looking too big or too small. This hat has probably the best range of adjustability I've seen from any hat, so I wouldn't worry if your head is on the smaller/larger side.

Andrew
4) Buff – Running Cap
Provided by
Amazon
This hat is very popular. It has all the things a running hat should have. It is very lightweight, folds well for packing, has small hoes that don't allow much sunlight to penetrate onto your head.
There is also a huge variety of hats at Buff. They probably have more styles than any other company. I have liked using Buff products for about 6 years now. I highly recommend checking out there website to find what will work best for you. This one is a very general style, but it will work well for most of us. I really like the draw string on this one.
Super super light weight
Has a draw string that allows for quick adjustments
Great UV protection
Air flow is decent, but not the best
The bill is very small but still protects your eyes from sunlight or rain
At $25 it is also one of the least expensive hats on the market
Amazingly pocketable. I am bald and wanted something to keep sweat from running off my head, block the UV, and shield my eyes but that could also just be stuffed in my pocket. This checked every one of those boxes. Basically exactly what I wanted

Ethan
5) La Sportiva – Mountain Running Hat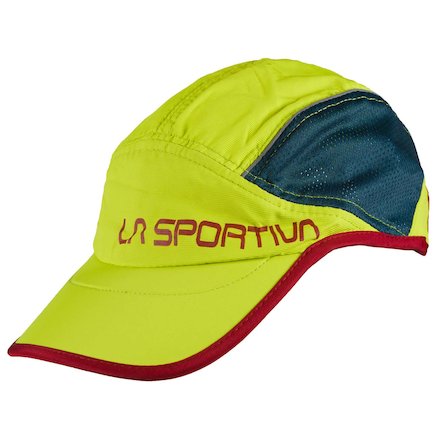 Provided by
La Sportiva
La Sportiva tests everything. This hat is well versed and designed for runners. Especially runners who do intense mountain runs.
Now this running hat does not fit my personal criteria of the perfect running hat, but it is very good for many runners. This because the bill is designed for those who like longer bills.
But, besides this, it provides everything you expect of a running hat.
Light weight
Made of polyester
Lot's of holes for ventilation
Good for rainy and sunny days
It dries quickly
It has wicking material to pull the sweat away from your head
$40 is not a bad price as well.
6) Nike – AeroBill Featherlite
Provided by
Amazon
We all know this company. It has its share of problems, but they still make some great clothes and shoes. Their running hats are no exception. This is a very well designed hat that is perfect for cool or hot weather.
I really like the design of this hat, it has lots of breezy holes to keep you cool and dry. First, it also fully protects you from the sun. Next, it is really a good looking hat. And lastly, you can wear this running hat almost everywhere. Here is why you should buy this hat:
Very breathable
Sweat-wicking headband inside
100% recycled polyester
Beautifully designed
Washes easily
I was looking for some replacements for my old Nike Drive-Fit feather light hats, and these are perfect. Yes, the design has changed somewhat over the last 10 years, but all in all it is still a great hat.

E. K. Willis
7) Tasc Performance – Bamboo Hat
Provided by
Tasc
I love clothing companies that do all that they can to use natural materials. Tasc has dedicated the use of bamboo in all of their clothing. This hat is made from just that….bamboo.
Bamboo cools your skin, wicks sweat, and is super soft. This is the perfect material for a running hat. And that is why it is in this article. Here is why you should buy it:
90% bamboo
Wicks sweat
light weight
odor eater
well ventilated
Why Buy a Running Hat?
Running hats… I never wanted to run with my hat on when I was a kid. If it was summer time, I felt way too hot with a hat on. If it was cool outside, I would wear it for a little while until I would have to take it off because I was too hot. And if it was really cold outside, I would just wear a really nice beanie that would allow my head to breathe but also keep me warm.
But now that I've been in my thirties for a while now, I use my running hats all the time. Whether you have a lack of hair like me or you have a full head of hair, there are many benefits to wearing a hat whilst running.
Modern Running Hats are Very Well Designed
Running hats are actually well-designed for runners now. It seems a little ridiculous to say but I feel like designs 20 or 30 years ago we're kind of just thrown together as a hodgepodge of what people might like. But after the past 15 years or so, there have been some really nice advancements on cooling and sweat management in hat design.
For the remainder of this article I will discuss hats that are well-designed for summer heat and cooler days. Running hats for winter time are very plentiful and don't take too much thought. If you're looking for a winter hat you can get a nice synthetic beanie or natural material beanie at any outdoor store or you can go to Patagonia's website.
Hot and Cool Weather Running Hats
My top picks for running hats have always been those with the short bill on them. Unlike baseball, running the can require seeing a little bit above your eye line. So, I have never been a fan of wearing baseball style hats while running. Until I purchased a really nice hat that was designed specifically for running, I would use cycling hats.
Cycling/Running Hats
Being a triathlete almost requires having a cycling hat. It's so that you don't get sunburned or too cold on a ride while wearing a cycling helmet. I had an idea of just putting it on and going for a run one day. It all changed after that.
I was running in a cycling hat on almost every run.
The great thing about cycling hats is that they're designed with a very short bill on the front. It's just enough to protect you from the sun but still allows you to be able to see far in front of you.
Having a lack of hair on top as always made it so that I need a little bit of protection from the sun. But, even if you have a full head of hair, the sun can still burn your scalp if you direct sunlight shining down on you.
They Protect You From the Sun, Wick Sweat, and Keep You Cool
I also liked how well it took the sweat off of my head and kept me from having it all over my face. Secondarily, cycling hats look pretty darn cool in my opinion.
So, if you want to just go ahead and get a cycling hat for your running hat, you've got a great solution to keeping the sun off your head and wicking sweat out of your hair or your scalp. But, one thing I noticed was that they weren't keeping me as cool as I would like. Cycling hats don't traditionally have very much airflow.
So, I did a little research and found some really awesome solutions for that problem. There are running hats that have shorter bills, great air holes, and wonderful wicking abilities.
The list above gives you a good variety of high quality running hats. I highly recommend checking out Buff's website. They have a large variety of running hats for both men and women!
Finally, If you are looking for more running related gear, you can also check out this article about the best running shirts you can get. Thank you so much for visiting my little website, Triathlete's Tribe. Stay awesome! Come back soon now, ya here!! 🙂