1. Nike Stride Snood – The Best Cold Weather Running Mask
Provided by
Amazon
If you buy something using links in my stories, I may earn a commission. This helps support this website. Learn More.
The Nike Strike Snood is the best cold weather running mask on the market today.  It is made of a very comfortable fleece material, wicks sweat away from your face so that your face doesn't feel as chilly when the cold air hits it.  
It fully covers your nose, ears, mouth, and neck. The Nike Strike Snood fits securely over your ears and has a drawstring that can be adjusted for your level of comfort. Nike claims that the secure fit over the ears will hold even at full speed. Even if you are not running as fast as Usain Bolt, the secure fit over the ears and the drawstring will hold for many hours of running.
What I love about this running mask is that it was specifically designed for runners who are in cold weather often. It is built to last. The design on the mouth and nose area is unparalleled by any other running clothing brand that I have found. Everything outside of the nose and mouth area is made with a thicker material to provide warm. The mesh that covers the breathing area is designed so that you can feel less restriction or labor when breathing.
Many times when wearing a mask you might feel the air pushing up towards your eyes. You will feel this a little bit when using this mask, but it will be reduced because of the nice volume of airflow that can pass through the breathing mesh on the front of this mask.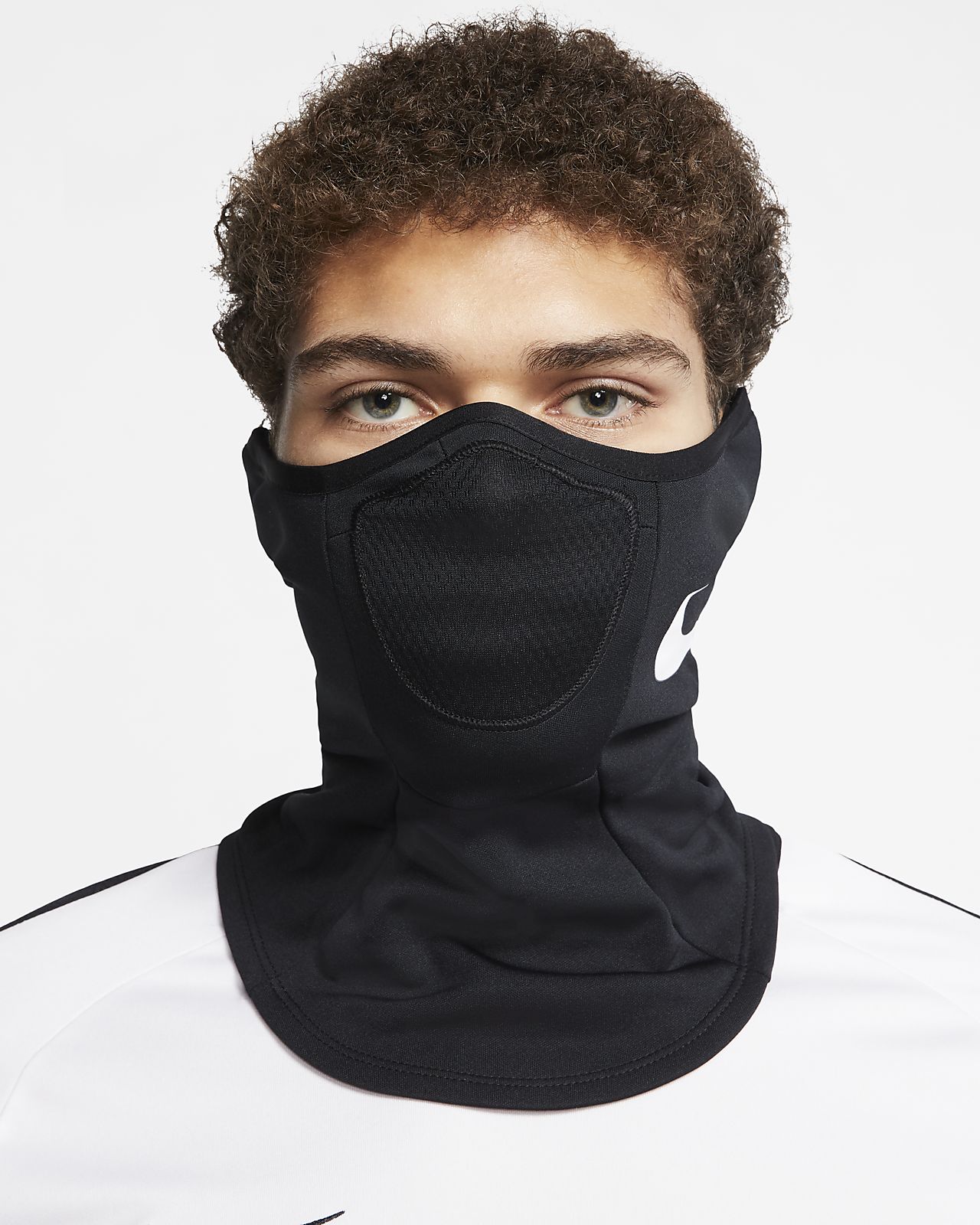 Provided by
Nike.com
2. Nike Therma Sphere Hood Mask
Provided by
Amazon
The Nike Thermal Hood is designed to serve as a cold weather mask and provide cold weather protection for your entire neck and head.
This is a very comfortable Dri-Fit material. And you really want that when something is touching your face and neck. Like other Dri-Fit material, it is easy to clean and it doesn't hold any unpleasant odor if washed properly.
It has a fold-over design that makes it adjustable for nearly every face. This makes it nice and easy to adjust for different nose and eye ratios.
The breathing area is good for steady moderate workouts. It does not compare well with the Nike Snood as pictured above. The Nike Snood has a much better design if you want to be able to breathe with a much higher volume of air inhaling and exhaling.
The breathing area does work well though. It is not overly restrictive, but it leaves a bit more to be desired if you are going to be huffing and puffing.
The biggest benefit to this mask is that it has a fully integrated hood. This design more readily captures the heat that travels up from your chest, back and neck. In turn, you will get more warmth over your head, ears and face when running in cold weather.
3. Adidas Alphaskin Balaclava
Provided by
Amazon
The Adidas Alphaskin Balaclava is an excellent running mask for cold weather. Although it is a full hood, just like the Nike Therma Sphere Hood, it is an excellent addition to your outdoor cold weather running gear.
It is made of 86% polyester and 14% spandex. Adidas trademarked Climawarm insulation is meant to keep you dry like the Nike Dri-FIT material. This one is particularly tailored for cold-weather use.
The design does not allow for as much adjustability while wearing it as a full mask like the Nike Therma Sphere Hood or the Nike Strike Snood. But, if you like Adidas, want a very basic design to keep you warm, and slightly warm the air before it enters your lungs, then this is a suitable option.
It can be worn as a head warmer or just a neck warmer. You can also pull down the hood over the head so that you are just wearing a mask and neck warmer.
The cold weather running hooded mask is also quite inexpensive and the build quality is quite nice. The stitching is very good. It is a very durable material and it is lightweight.
It provides full protection for your neck, head, ears, nose and mouth. And because of this, I highly recommend this as a cold-weather solution to protect your face and neck.
4. Oakley Balaclava
Provided by
Amazon
The Oakley balaclava is an excellent mask/ hood for cold weather running. I have this as the number for running mask for cold weather, but I would like to put it higher up on the list if I weren't so biased with Oakley products.
It is very well made. It provides the same benefits as the to previous hoods that I recommend. But, the difference is in the material and the stitching. I like the way this running balaclava looks.
It still is not as good as the Nike Strike Snood. But, this is only because it has a full head covering.
The reviews are excellent on this running balaclava. It is made of 90% polyester and 10% spandex. The material is not overly shiny and it wicks sweat well. It is as versatile as the previous two hoods. It has a lot of expandability as well.
Like most of these hoods, it is limited on color options. Black is great foremost purposes including not showing oil or dirt marks.
If you clean this mask well, you will not have to worry about too much bad odor. Polyester holds odors very well. I tend to avoid most polyester shirts especially for running because of this reality.
Due to this winter running mask being inexpensive, you could purchase 3 of them. If you wash them after each run, you would be good for a full week's rotation wearing them only twice a week.
5. Buff Face Mask – For a Colorful Cold Weather Running Mask
Provided by
Amazon
This mask is an excellent option to prevent wear and tear on your face due to cold weather. Buff's running mask is made of 100% polyester. It has a breathable mouth and nose area on the mask. There are perforations to allow ample amounts of air to pass through.
Breathing through this mask is not as labored as the Adidas and Nike balaclava due to the holes. But, it won't stop as much cold air from entering as well. I feel that this is a wonderful option. Buff's face mask provides a good option for when it is not super cold outside. The other benefit is that it does not have a hood. This provides a little more versatility when deciding how much coverage you need.
I also like that there are a few more color options for this mask compared to other brands. Black is good but it can also be a little ubiquitous and boring. It's nice to change it up sometimes.
I have been using Buff clothing since they first went international. I really like their multipurpose scarves and head gear.
The next two masks/balaclava I recommend are for when it is a bit colder out.
6. Buff Running Balaclava – An Excellent Cold Weather Running Mask with a Full Hood
Provided by
Amazon
This balaclava is made with a very touchable material. It's made of polyester like the others, but the newer models have a knit woven feel to them. This model has the same texture as the Buff face masks that I mention above.
The balaclava is a wonderful option for when it's really cold out. Your breath allows heat to rise up your neck to the back of your head and on to the top of your head.
With a similar design as the face mask, you will be breathing in air that is the same as the temperature outside. But when you exhale, you will be able to feel the heat wrap around and you go down the neck and back up to the top of your head. Most of the heat is really coming from the top of your head. The flow is really great. It's a nice feeling to have a permeable enclosure of rising heat.
The balaclava will fit most face shapes. Even if you have longer hair, you can still place everything inside of the balaclava.
This does not have a drawstring, but it can be rolled and tied together as you would a normal Buff scarf. I really think this is a good option for most people to use due to the versatility of balaclava's shape.
The last face mask that I will tell you about is actually one of Buff's most iconic multi-purpose scarves.
Below is the Buff DryFlx. This is the one that feels great!
Provided by
Buff
7. Buff Merino Wool Scarf
Provided by
Amazon
This is a scarf, not a mask. I put it on this list because it works as an excellent cold weather mask.
Wool is one of the best materials for every time of the year. During the winter merino wool is the pinnacle of comfort, warmth, sweat wicking, odor elimination, and how breathable it can be.
I chose this scarf for you to use as a cold weather mask because of its low toxicity and because of how versatile this scarf is. You can use it as a headband, a neck warmer, or as a face mask.
The feel of it is not itchy like the wool of the past. It's soft, and it works very well at allowing you to breathe while you run in the cold.
I am all about using things for multiple purposes. This scarf is like the Swiss Army knife of cold weather running gear. One of the biggest reasons I like it is because of merino wool's natural reduction of odor. It just won't stink. I have gone through about a month's worth of wearing merino wool and still didn't smell anything. My sense of smell is excellent by the way :).
In Conclusion
I hope you find the best running mask for you. All of these have a very similar design. It really comes down to what works for you. If you would like to just have a mask that is specially designed for running, my top pick is the Nike Strike Snood. It has a weird name, but it works very well.
Have an awesome day and keep training!
If you are looking for running shorts that don't chafe, check this article to help you find the right pair of shorts.